Ventures
Career Seas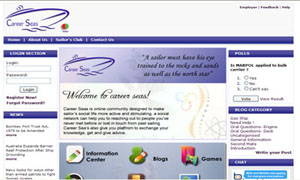 Career Seas is a recruiting portal special for shipping industry and online community designed to make sailorís social life more active and stimulating.
Career Seaís social network can help you maintain existing relationships with pictures and messages, and establish relationship by reaching out to people you've never met before or lost in touch from past sailing.
SEE LIVE
Campus Vector
Campus Vector is a portal made for the student community like engineers. It has been started by the group of Engineers who believe in making the engineers academic life simple. It is a start-up by group of individuals comprising of Engineers from Mumbai University, Bsc. IT people and others.
So this site gives the direction to student community for their academics and career needs. It has a dedicated team of motivated individuals who help in gathering information and materials so that this site can be another campus for the student community beside their college campus.
At this site you can discuss, update yourself with current information, learn and study. At every juncture our team will always be willing to fulfil the needs of the student. So we drive and direct student growth and future with passion.
SEE LIVE